SoapYard
Our Fig Soap is handcrafted in workshops in Marseille by artisan 'Savonniers' soapmakers. It is enriched with organic shea butter, to moisturise and prevent dryness and the temporary tight feeling on your skin sometimes experienced when you use some other soap brands!

This soap will remind you of the delicate Mediterranean scent of a fig tree, a warm, sweet and green scent, leaves your skin delicately fragranced.

Rich in vitamins A, D, E and F, shea butter has excellent restorative and regenerative properties and is often used to treat dry and tired skin.  We can't make promises that it will improve skin conditions, but it's certainly a pleasantly fragranced soap bar that is lovely to use and a good cleanser.
INCI: sodium palmate, sodium palm kernelate, aqua (water), parfum (fragrance), palm kernel acid, sodium chloride, glycerin,
butyrospermum parkii (shea) butter*, tetrasodium EDTA, tetrasodium etidronate, benzyl benzoate, CI 77492, CI77491, CI 77499,
CI 77288
140g | 5oz min weight

MORE ABOUT ALLERGIES @ SOAPYARD.COM/ALLERGY
For pregnant women, very young children and people with skin sensitive to natural fragrances and essential oils, we recommend using fragrance/essential oil-free soaps. Choose 100% natural and perfume-free soap from our range.
Share
詳細を表示する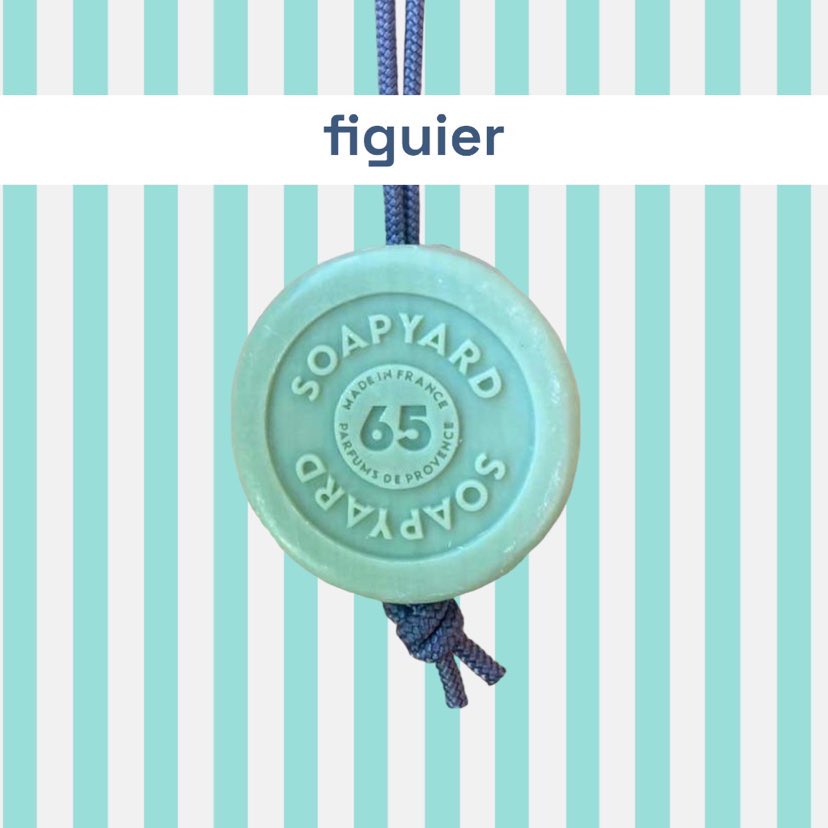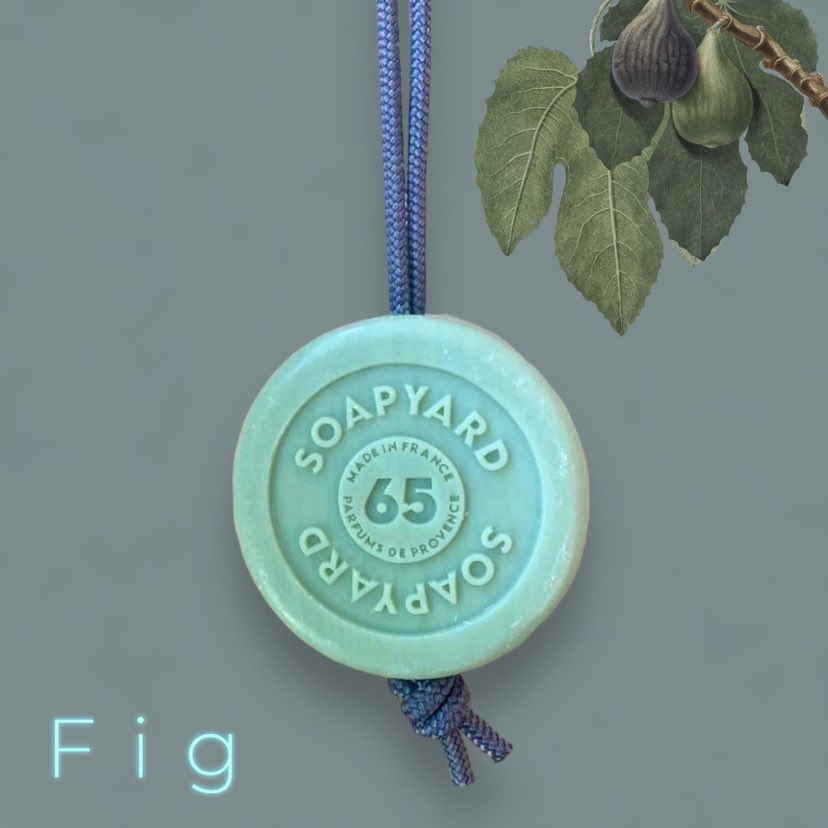 Little notes
SoapYard bars

Our bars are made by hand by artisans in the Marseille region of the South of France, using the traditional vegetable oil based recipes of the Provençal savonettes.

The soaps are also enriched with organic shea butter, which is a natural skin moisturiser and creates a natural creamy softening lather.

The soap is triple milled eliminating excess water and air, and this creates makes it a nice hard soap which feels luxurious to use. As it's a good hard soap, the soap should not go mushy and should last a long time.
Scent

The fragrances used in our bars are locally sourced from nearby Grasse in Provence, also known as the world capital of perfume.
Ingredients

Our ingredients where possible are locally sourced and organic. A full list of ingredients can be checked on the product pages and on our ingredients page. Our soaps are made with vegetable oils and not animal tallow and so are all vegan except for the dairy ranges. Any additives are safe to use and are added to enhance the user experience of the soap.

Our soap does contain organic ingredients, but please note that no soap can be 100% organic in spite of what some brands may claim.
More about our bars

The soap is made with natural vegetable oils and naturally sourced local fragrances. 

Like all our bars, this soap is detergent-free, paraben-free, and cruelty-free. The recipe is an age-old traditional formula, not tested on animals.

The soap is triple milled eliminating excess water and air, and this creates makes it a nice hard soap.
Looking after your bars

As with any natural, artisan-made product, every bar might be a little bit different. Soap can behave differently depending on ambient humidity, heat and light. 

Try and keep your soap dry between uses and avoid letting it sit in water or on a wet surface.

If cracks appear in your soap, this is just moisture escaping and is part of the normal process. You can just rub it in, or under running water and smooth out the cracks. You can even melt and reshape the soap when it gets too small to use.

See online how to do this, and do not attempt without proper instructions. 
Paracord

The rope we supply with our soap is raw edge, flame sealed, PPM paracord, more commonly known as parachute rope, sailing rope or nautical rope. PPM rope floats, dries quickly and rarely gets dirty which is why we think its perfect for our soap bars! It's also colourful, soft, it won't go mouldy or get dirty and it ties into a knot really well but also unties relatively easily if you want to change the length.

The PPM ropes we buy are made of Nylon and have a label (OEKO-TEX®) which indicates that the rope is non-toxic and safe for humans and animals. The rope we supply is Made in either the USA or the EU.

The paracord rope can be washed in the washing machine at max 30 degrees.

There are a lot of non-SOAPYARD related videos on YouTube explaining how to cut and seal paracord and what else you can use it for to make sure it lives another life when you want a new soap rope. 

Disclaimer:
We supply raw-edge, flame sealed paracord and do not take responsibility for any changes you make to your rope. We cannot exchange the paracord. If you find that the cord frays a little at the end or if the rope is too long, you can re-cut it, and seal the ends with a flame, making sure to keep the flame at a distance and following all safety precautions which can be viewed on multiple sites on youtube but are not related to SOAPYARD.

We take no responsibilty for any actions taken with or using the paracord.

We consider paracord to be a zero-waste product because it can be repurposed and re-used over and over again. Bracelets, dog leads, washing lines .. all sorts!